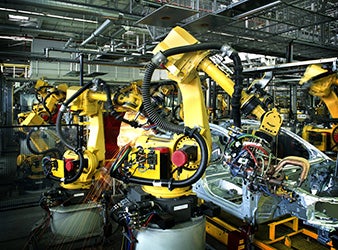 Being a multi-disciplinary field, Automation domain requires a convergence of various engineering fields that is CS/IT, electrical, mechanical, chemical and electronics to develop a solution. In the recent times intelligent machines are being created and this intelligence is provided by using advanced software. In today's world of technology, more functionality is being defined by software rather than hardware, so this has led to a manifold increase in the demand of the automation industry.

With the help of automation it has become possible to pass on the intelligence to a system in order to make it efficient and economical.

Due to relatively small production volumes and huge varieties of applications, the automation industry is making it easy to utilize new technologies developed in other markets. Automation companies work towards customizing products for specific applications and requirements. These are being widely used in the industry and are becoming popular at an astonishing rate.

From past many years, quite a few innovations have provided the industrial automation with new prospects of growth. For example, the programmable logic controller (PLC) was designed to replace relay-logic, it generated growth in applications where custom logic was difficult to implement and change. The PLC was a lot more reliable than relay-contacts, and much easier to program and reprogram. Growth was rapid in automobile test-installations, which had to be re-programmed often for new car models. The PLC has had a long and productive life – some three decades – and (understandably) has now become a commodity. Similarly many other beneficial programs have come into existence.

Keeping in mind the vast scope of Automation industry, at Anax Projects and Development we make sure to provide the interested students with the best possible training.